---
Testimonials
We receive fantastic support from Adaptall. In all sincerity, of all the vendors we deal with, Adaptall is consistently at the top of the list for response times to email inquiries and orders confirmations, fill rates, delivery, product quality and just overall excellent customer service. They truly are the benchmark!

Dave P, Hose Tech
With friendly and knowledgeable staff, Adaptall always provides us with the products we need with a super quick turnaround. Its always a pleasure to do business with Adaptall and we at Hydraline are proud to be a preferred distributor.

Ian C, Hydraline
Adaptall is known for having unmatched stock levels. In our experience, fill rates are over 98% on average which is unheard of when sourcing fittings, let alone Metric and British Adapters. The world class customer service and technical support is the other reason why I choose Adaptall. They really know their stuff!!

Robert "Arty" Rotz, Niagara Industrial Supplies
Adaptall has been a reliable partner for many years now, and is key to our success in the foreign adapters market. Same day shipping and industry leading expertise is why I keep coming back. If you can't find a Metric or British fitting elsewhere, they will have it on their shelves.

Robert Barrese, Power Drives Inc.
Tube Fittings
24° tube fittings, or 'Bite-Type,' are the most popular fitting globally and employ the most advanced tube fitting system in the world. This system is capable of withstanding high pressures and extreme vibration, thanks to the cutting ring design. The cutting ring is a ferrule that incorporates sharp cutting edges. When a nut is torqued onto the fitting, the base of the nut comes into contact with the cutting ring, wedging it into the 24&deg tapered throat of the fitting thereby cutting into and gripping the tube.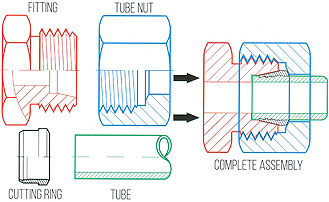 Learn More